Product Details
Water Brake Engine Dynamometer 35X-Series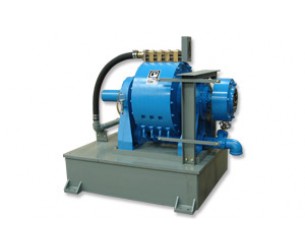 Power:
- 35X01: Up to 350 HP (261kW)
- 35X02: Up to 700 HP (522kW)
- 35X03: Up to 1,050 HP (783kW)
- 35X04: Up to 1,400 HP (1044kW)
- 35X05: Up to 1,750 HP (1305kW)
- 35X06: Up to 2,100 HP (1566kW)
Torque:
- 35X01: Up to 1,250 ft-lbs
- 35X02: Up to 2,500 ft-lbs
- 35X03: Up to 3,750 ft-lbs
- 35X04: Up to 5,000 ft-lbs
- 35X05: Up to 6,225 ft-lbs
- 35X06: Up to 7,500 ft-lbs
Speed:
- Up to 4,000 RPM

Construction

Each X-Series dynamometer features a trunnion-mounted, fixed base design. These dynamometers provide equal load capability in either direction of rotation. Power Test dynamometers are constructed of multiple absorption sections offering the flexibility to test prime movers of widely varying outputs with the same dynamometer. By closing off selected sections, the absorption characteristics are able to be closely matched to the engine or motor's capability.

The through shaft design allows either end of the dynamometer to be driven and for dynamometer mounted starting systems to be attached and used. Although supplied to provide long term service, internationally available bearings and seals are used in every X-Series dynamometer and are located in easy-to-access cartridges to allow field service without the need for dynamometer removal or specialty tools.