Product Details
Ecoline Filter Housings EBF-0103-AC(BB)09-040B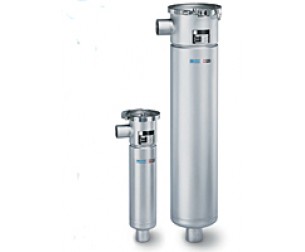 • ECOLINE housings have a lightweight design for commercial,OEM,non-hazardous,low pressure applications that do not require a Code Stamp.
• The cost-effective design incorporates a handy V-clamp closure and threaded couplings.The lid is fitted with a 1/4" BSP connection for easy fitting of a vent or gauge.
• For filter bags sizes 01,02,03 and 04.
• Type 304 or 316 stainless steel construction offers superior corrosion resistance and consistene. A smooth,bead-blasted finish makes it easy to completely clean the interior of the housing.